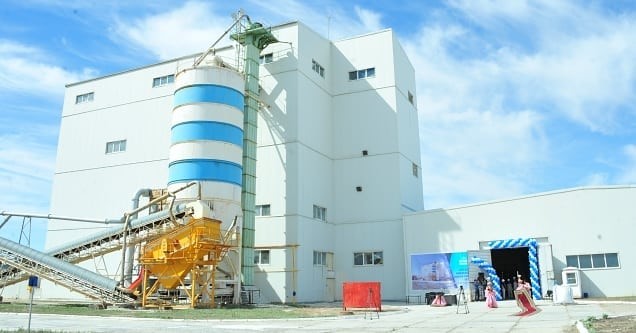 Almaty, June 28, 2022 – "InderGyps" LLP, a plant for gypsum plaster and dry mortars manufacture summarizes Year 2021 production performance. The gypsum products output totaled to 67 thousand tons with LLP's revenue increased by 47% compared to previous year.
Ruslan Amanbaev , Director General of "InderGyps" LLP, noted: "The volume of manufacture of gypsum products using own raw stock increased by 46% compared to Year 2020.
The company is intensifying efforts to expand its product range. We developed formulas for new products and launched manufacture of such items as gypsum self-leveling floor, expanded variety of perlite-containing products and restored manufacture of perlite for own needs and demands of other consumers.
We have also expanded the geography of supplies over Kazakhstan: we are tapping into the market of South Kazakhstan and entered retail market. We retooled our laboratory and strengthened our team of technical specialists - all these guarantee the quality of our products.
Mentioned transformations will allow to increase manufacture of gypsum products in Year 2022, so we are planning to increase output onto 80% compared to previous year."
Bektas Mukazhanov , Chairman of the Board of "Fincraft Resources" JSC, stated: "Thanks to thorough quality control and expansion of laboratory and analytical team, the plant has achieved the goal of stabilizing product quality. As a shareholder of the LLP, we are pleased with year outcomes.
The LLP has started manufacture of new products and is ready to offer an expanded product range to the market. Over the past year, "InderGyps" has entered new, highly competitive markets: both regional markets and new segments of consumers.
_____________________________
About plant
By the end of Year 2021, the production volume of "InderGyps" LLP was 46% higher than in Year 2020. The plant is fitted with modern Turkish equipment with capacity of 120 thousand tons of finished products per annum, including plaster, crack filler (putty) and joint compound. Gypsum plaster produced has a high degree of fineness of grinding and strength and is distinguished by its whiteness, friability and airiness. The plant's products are certified in accordance with the requirements of legislation of the Republic of Kazakhstan under InderMix trademark.
The outstanding competitiveness of "InderGyps" products is ensured by availability of own high-quality raw stock base (gypsum content in raw stock is not less 94%) and advantageous location of production premises - crushing and screening facility is in vicinity of a quarry (30 km), next to Inder railway station. Besides, there is a railway spur on the territory of plant. All abovementioned guarantees high quality of the products and minimum production and logistics expenses. The annual audit of financial and economic performance of "InderGyps" is carried out by NAC "Сenteraudit -Kazakhstan".
The plant is part of "Fincraft Resources" JSC - a dynamically developing Kazakh holding investing in mining, manufacturing and metallurgy, in particular, the metals used in accumulating batteries manufacture for electric vehicles. The shares of "Fincraft Resources" JSC are traded at Kazakhstan Stock Exchange KASE. The holding is an integral part of Fincraft group .
Please visit: https://indermix.kz/ and Instagram: https://www.instagram.com/inder_mix.kz/ for more details about the LLP and products.